The MVP, or Minimum Viable Product, is a prototype of the value proposition, no more, no less. The formula may seem simplistic, but it reveals a very clear concept.
MVP: the importance for product development
When a new product takes shape in the mind of its creator, an organization must quickly consider doing an MVP test. The challenge is to ensure that this minimal prototype is able to capture value attributes and understand market perceptions – thus testing the new product's acceptance in the marketplace.
Honestly, what is the point of creating a product if you are not sure you can sell it?
But, beware, it is not just a scaled-down version of the product, but a version that is just good enough to interest users. An MVP is designed with the bare minimum of features that customers need. At this stage, this product is tested and evaluated for its potential before investing in its rollout.
The main purpose is to determine the interest for the product and to measure the possible improvements that the target group would like to see, even before committing huge amounts of money to its development.
There are several types of MVP tests that can be implemented, including schematic illustrations, storyboards, usage videos, brochures, packaging, to name a few.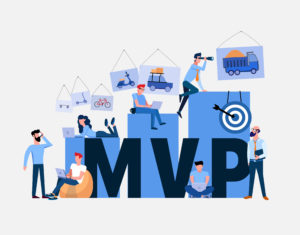 At Novo, a company that offers an integrated approach to medical and technology product development, the MVP test was used to gauge the interest of epilepsy patients in a home device that measures the level of medication in the blood. The company defined and created a sketch of the value proposition to assess whether the idea it wanted to develop was feasible and suitable for consumer uptake.
Novo wanted to gain insight into the habits and behaviors of people with epilepsy, a validation of a need for a device to ultimately improve the quality of life of those affected, decrease side effects and prevent seizures. With inBe expertise in minimum viable product testing, and the collaboration with Moon Creative Lab, Novo was able to gain a better understanding of the reality of patients living with epilepsy, identify their needs and pain points, validate interest in the device, target the most important features, and identify an ideal price point.
What is the purpose of the MPV test?
An MPV test allows for improvements to be made before the final product is launched on the market. It also minimizes development costs and creation time, as there will be no investment in features or functionality that users are not interested in.
This is only true if the company is using an MVP test to provide the market with something of value, not to try to understand what the market wants. Reasons to develop an MPV test include saving time and money, analyzing user behavior, and accelerating the product development cycle.
MVP to set priorities
The minimum viable product is therefore a component of the agile innovation development process. It is an iterative loop that allows you to do, then undo, to perfect a product that a company wants to launch, to find out what things don't work so they can be discarded quickly. If you are going down the wrong path, you might as well know it as soon as possible.
By being able to quickly adjust priorities, you have agility on your side. The company saves money. And the desired product/market fit is achievable.